Regular price
Sale price
$16.00 USD
Unit price
per
Sale
Sold out
PURE ROSE QUARTZ GEMSTONE CRYSTAL BRACELET OF LOVE. ACTIVATES THE HEART CHAKRA. Rose Quartz is a standard, beautiful stone full of high vibrational energies. It is gentle, kind, and looks good on anyone, anywhere, anytime. It has a luxurious appeal, especially with our matte style.

OPINION

Rose Quartz is potentially the most famous and most loved of all the stones. And for good reason. It has a gentle, loving energy attached to it and instantly brings that love into whichever place it happens to be. And come on, who doesn't want to be loved? My only concern is that people might not fully understand the subtly of this stone's energy. Rose Quartz is NOT a stone of love geared for passion and romance. Stones like Rhodochrosite or Carnelian are more geared for love-making and exploring your sexuality. Rose Quartz is for spreading a light love within families, friends and yourself. It is for self-acceptance, finding your inner beauty and peace.

HEALING PROPERTIES

As I've just said (as I rambled on above) Rose Quartz is a beautiful stone that should be used for spreading love to family, friends and within yourself. It makes an AMAZING gift, especially for events like bridal showers, baby showers, and birthdays of close friends.

SOURCE
Pink Rose Lode Quarry in South Dakota, USA. We are so fortunate to have a supply of this beautiful stone in the United States. It makes it a bit easier to source and use in our jewelry and home decorations.

RARITY
Rose Quartz is not a rare gemstone. It is used wildly around the world! It is, however, unusual to find stones as perfectly polished as the ones in our bracelets! They are truly gorgeous and illustrate just how beautiful the stone can be with the proper handling.
Share
View full details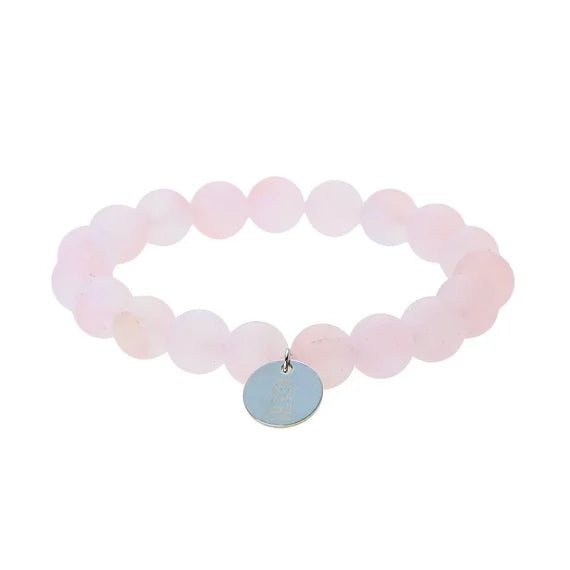 Free Shipping over $85!

We offer free shipping in the USA for all orders $85 or more! For orders less than $85, we charge a small, flat-rate fee of $6.99 to cover the shipping expenses. Check out our $10 and Under section to make sure to reach that free shipping threshold!

$10 and Under Collection